Drying equipment installation and commissioning of the main connection pipe between stove and sawdust dryer cylinder :

Connection pipe installation :

Inlet : Material is imported into the dryer , generally used for conveying size than the width of each side of the rack about 100mm wide , can make better material into the dryer feeder .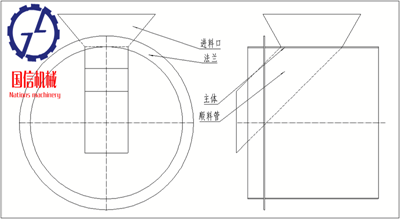 Suitable feed tube: make the material more smoothly into the dryer , to avoid accumulation of materials , cards and other materials from happening.
( Feeder installation ) major role feeder flange , sealed feeder dryer and the connecting portion , the sealing is generally used materials such as steel tile or belts , seals may be stacked with a sealing manner .

Its connections need to be sealed , the seal is: near the furnace end to insert into the furnace refractory cement walls, generally when the furnace hot air pipe connection , you can meet the requirements to enter the furnace 100mm , hot air ducts need to set up and stable, so the specific approach to the Purchaser decides to set up close to the feeder side of the sealing method is to weld , to be real , welding thickness in accordance with national standards.





Body: its sheet material needs to have a high temperature, toughness and other characteristics, fire tube size is determined according to the size of drying equipment , fire tube feeder is the role and the same , the installation steps are: feeder links and the cylinder , to be entered into the feeder tube about 50mm and avoid materials for a variety of situations not enter the dryer . Such feeding method is light particles and powders of materials used , the specific materials are : coal , lignite , fly ash , sludge , coal , gypsum and other materials.
 

Sales Manager :Annie
Contact :0086-15136201282
Skype: annieff1
Mail: annie@cngxdryer.com
http://www.cngxdryer.com/Product/Drum_Dryer/Sawdust_Dryer.htmlWeb: http://www.cngxdryer.com


Your Contact Details To Us
(*)Required information