The Structures of Sawdust Dryer:
Sawdust dryer mainly consist of :


1) Furnace
2) Connection pipes between sawdust dryer and furnace
3) Feeder machine
4)Temperature detector(you can check the temperature inside the sawdust dryer at any time)
5) Sawdust dryer roller ring
6) Big gear(45# steel)
7) Transmission parts ( Motor, Reducer, Bearing,Small gear)
8) Carrier Roller of sawdust dryer
9) Discharge machine
10) Cyclone
11) Water dust collector for sawdust dryer
12) Air induced fan

Technical Parametershnical parameters of rotary sawdust dryer: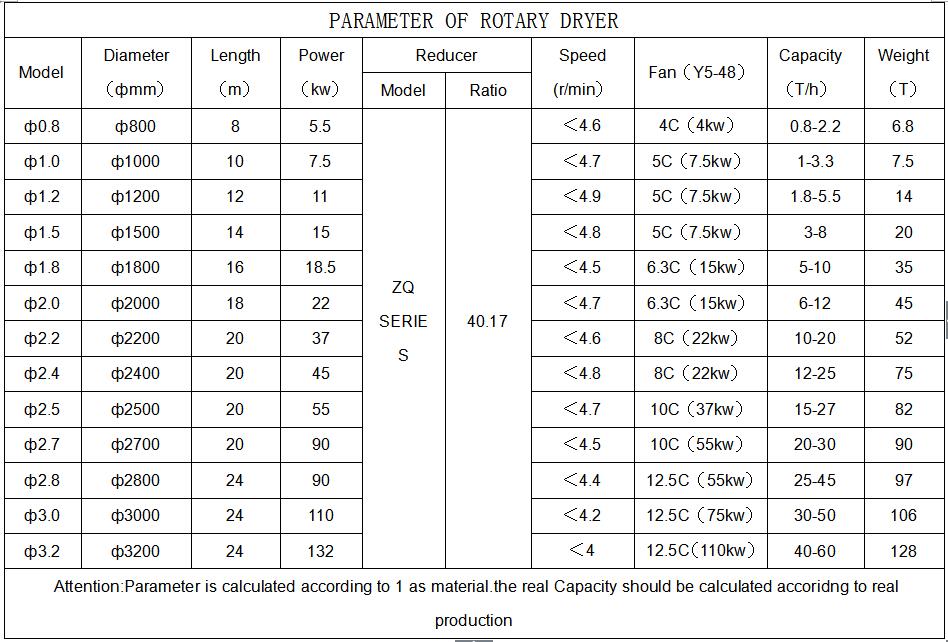 v
T
The working principle of sawdust dryer :
Sawdust dryer is mainly for drying the small size raw material less than 30mm, The moisture content less than 65%.
Firstly, The sawdust dryer enter into the drying sysem by conveyor or bucket conveyor, the sawdust raised by lifting plate to make the sawdust and heat totally contact with each other.
The sawdust are evenly distributed in sawdust cylinder,at the start of the sawdust dryer and the end of the dryer have temperature detector, so you can check everywhere temperature inside the drier.
After the sawdust dryer have fan, it will absorb the hot air into the dryer and finally make the material to dry.
Between the sawdust dryer and fan have cyclone, it can collect the dust out from the dryer machine
Features:

1. High drying strength due to highly dispersed of the sawdust in the gas stream, and the material gets fully dried.
2. Short drying time.
3. Simple structure of airflow dryer, taking small floor area, simple construction and maintenance.
4. Large capacity, high thermal efficiency, the thermal efficiency is up to 60% in case of drying non-bound water.

The main features about the sawdust dryer
1. The sawdust dryer have high degree of mechanization, large production capacity and continuous working.
2.With simple and excellent structure, the material running smoothly inside the sawdust dryer cylinder.
3.The sawdust dryer with less mechanical failure, low maintenance and low power consumption.
4.The drier work uniformly and the drying product is very good.
5.With complete dust removal equipment and protect the environmental.
6. Sawdust dryer with no dust spilling.
7.Easy to operate and have a good operating environment.

Contact :

Sales Manager:JIA

Tel:008613592505674

Email:sales@hwdcrusher.com

Web: http://www.cngxdryer.com

Company Name : Hongrun Machinery Factory of Gongyi City

Your Contact Details To Us
(*)Required information